If you're curious about what light truck tires are made in America, then you'll be happy to know that I made this article.
I'm amazed by the quality standards that American manufacturers have over import products, which is why I wanted to find the full list of companies that invest locally to manufacture light truck tires in the USA.
I made sure to research every brand out there that manufactures light truck tires to ultimately learn if they manufacture their tires in America or overseas.
Let me tell you, it was a bit more difficult than expected, but I did it!
So, let's get right into it!
---
American-made Light Truck Tires: The Full List
Here are all the brands that manufacture pickup truck tires here in America:
1. BFGoodrich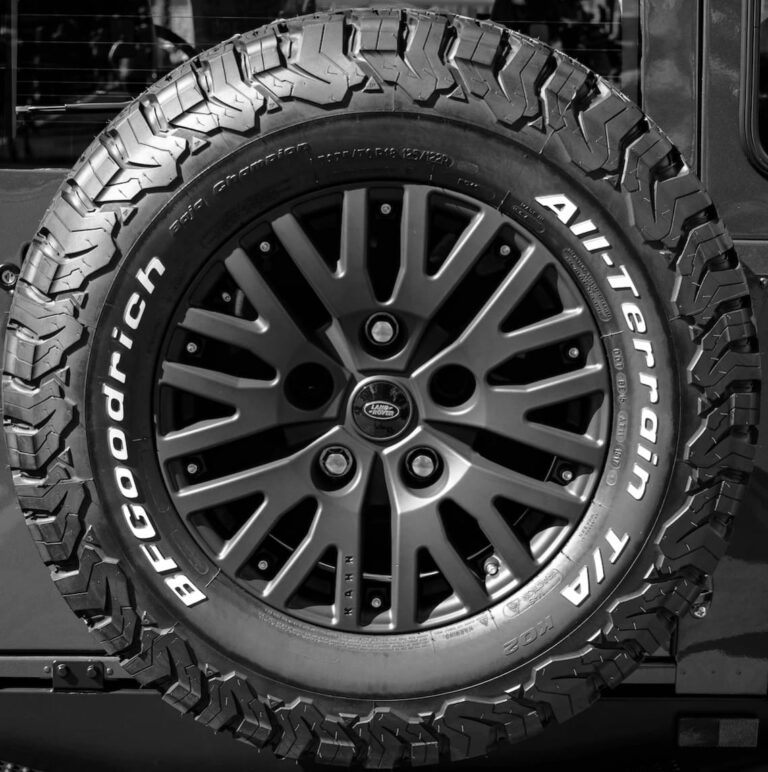 BFGoodrich is an American classic, a brand that's been crafting top-notch light truck tires in the USA since 1870.
With a legacy of innovation and reliability, BFGoodrich has solidified its place in the hearts of American drivers.
The company is deeply connected to the American people, known for developing tires that cater to the country's unique driving conditions. Whether you're cruising through urban roads or venturing into the wild, BFGoodrich has a tire that can handle it all.
BFGoodrich's American-made tire lineup is second to none.
Take the All-Terrain T/A KO2, for example. This tire is designed for the ultimate all-terrain performance with its aggressive tread design and advanced tire technology.
Or, if you're a mud-slinging off-road enthusiast, the Mud Terrain T/A KM2 is the tire for you, boasting maximum traction and durable construction to conquer any dirt or mud path.
And, let's not forget the Advantage T/A – the perfect all-season tire for those who demand reliable performance in any weather.
The Rugged Trail T/A is built to tackle even the toughest terrain, while the Commercial T/A Traction is engineered for commercial truck drivers who need a tire that can handle the demands of the road.
BFGoodrich All-Terrain T/A KO2 Radial Tire
I particularly would love to talk about the BFGoodrich T/A KO2 light truck tire, as I find it to be the best light truck tire truck from BFGoodrich manufactured in the USA (of cours).
With its CoreGard Technology, the sidewalls of this tire are beefed up with thicker rubber, making them stronger and more durable than ever before.
No more worrying about stones and obstacles – the tire's deflection design and stone ejection feature will steer them away from the sidewall, avoiding any potential snags or tears.
And that's not all – the specially formulated tread rubber is resistant to chips and tears from gravel, ensuring a long-lasting performance that'll have you smiling for miles.
Get ready to tackle mud, snow, and rocks with ease thanks to the tire's upper-sidewall traction bars.
And those muddy roads? No problem! The raised bars in the shoulder tread area release mud for even better traction. Plus, the staggered shoulder blocks give you greater maneuverability and control in soft off-road conditions.
But what about those snowy days?
The BFGoodrich All-Terrain T/A KO2 has got you covered. With its 3-D active sipe technology, this tire delivers more biting edges for increased snow traction, exceeding all snow traction requirements.
2. Dick Cepek
Founded by the adventurous Richard Cepek in 1963, the company was ahead of its time in recognizing the need for tires that could conquer the rugged and untamed outdoors.
The result of this level of innovation was a line of tires that stood out from the crowd, offering unparalleled performance and ruggedness that earned Cepek a well-deserved reputation as one of the most innovative names in the light truck tire industry.
Whether you're a seasoned off-roader or just looking for a tire that can handle your weekend adventures, Dick Cepek has you covered with their all-American-made Fun Country, Trail Country, and Extreme Country tires.
The Fun Country tire is the ultimate off-road powerhouse, providing superior traction and control even in the most challenging conditions
The Trail Country tire strikes the perfect balance between on- and off-road performance, offering a comfortable highway ride and confident handling in any situation
And for the most demanding off-road adventures, the Extreme Country tire is the tire of choice, delivering maximum the traction we all need in harsh country conditions
Dick Cepek Extreme Country All-Terrain Radial Tire
This off-road light truck tire blends strength and protection in a single, unstoppable all-American package, making it, at least under my eyes, the best tire from Dick Cepek for light trucks.
At the heart of this tire lies a tread compound that's tougher than tough which provides superior protection against chips, cuts, and anything else that dares to stand in its way.
Its symmetrical patterns, tailored to the tire size, offer a combination of ample space and angled shoulder scallops for an off-road grip that'll provide a superior driving experience in harsh environments.
But that's just the beginning.
The specially crafted ejector grooves, designed to eject rocks from the tread, are a stroke of genius.
Also, there are the legendary "DC" Sidebiters, molded onto the sidewalls which provide extra protection to the tire, and with the help of internal twin steel belts and two-ply next-generation High Tensile (HT) Body Ply Cord, these sidewalls are stronger than ever.
3. Cooper
With a legacy dating back to 1914, Cooper tires has been paving the way in the tire industry with their unwavering commitment to quality, performance, and reliability.
Embodying the spirit of American innovation and craftsmanship, Cooper Tires has a rich history rooted in Findlay, Ohio, where they continue to design and manufacture tires that are built to tackle any road or terrain.
Regarding their offer of American made light truck tires, we gotta lot to talk about regarding Cooper tires:
For those who demand tireless performance and versatility, the Cooper A/T3 XLT is a great alternative thanks to its unrivaled traction and handling both on and off the road.
Then, we got the Cooper Zeon LTZ, which provides the perfect balance of comfort, handling, and performance, making it a top pick for high-speed adventures.
Meanwhile, for those who want the absolute best, Cooper's Discoverer series offers a range of tire options that will leave you in awe:
The Cooper Discoverer H/T Plus is designed for long-lasting performance and durability, with a tread pattern that delivers a smooth and comfortable ride
The Cooper Discoverer SRX is a tire that's built for adventure, featuring an aggressive, all-terrain tread pattern that provides superior traction on any surface.
The Cooper Discoverer S/T Maxx is for those who want to conquer the toughest terrains, with its strong and durable construction
The Cooper Discoverer STT Pro is the tire of choice for those who want to conquer the trails, with its deep tread pattern that delivers excellent traction on any off-road surfaces.
And, the Cooper Discoverer HT3 is the ultimate highway tire, delivering a comfortable and smooth ride, while the innovative tread pattern provides excellent stability on both wet and dry roads.
Cooper Discoverer AT3 XLT All-Season Tire
Are you tired of tire trouble ruining your off-roading adventures? Then it's time to upgrade to Cooper's best light truck tire named the Discoverer AT3 XLT All-Season tire.
With its deep, rugged sidewalls that cling to even the toughest terrain, this American-made tire is made for the fearless adventurer.
Moreover, the tough rubber construction can handle dirt, gravel, and anything else that comes its way, leaving you free to conquer every obstacle.
And, with stone ledges that effortlessly eject stones, you won't have to worry about the tire succumbing to damage.
Last but not least, this light truck tire comes with the so-called Even Wear technology which is built to last, so you can focus on your adventures and not your tire replacements.
4. Nitto
Nitto tires is a name that evokes images of raw power and unbreakable resolve and has a legacy that stretches back to the dawn of the automotive age.
But what truly sets Nitto apart from the rest, you ask?
It's their unwavering commitment to quality and excellence, the dedication to craftsmanship that has earned them the title of one of America's most recognizable tire brands.
Allow me to introduce you to the two American-made powerhouse offerings of the Nitto light truck tire lineup: the Nitto Ridge Grappler and the Nitto Terra Grappler.
The Nitto Ridge Grappler, a tire that embodies the adventurous spirit of the American people, is the perfect blend of two worlds. With its unique hybrid design, it offers the rugged toughness of an all-terrain tire and the smooth comfort of a highway tire, making it the ultimate choice for those who live for the thrill of the unknown.
The Nitto Terra Grappler, on the other hand, is a tire for the conquerors, for those who live for the challenge of the off-road. With its aggressive tread design, this tire delivers unrivaled traction and handling, making it the tire of choice for those who dare to forge their own path.
Nitto Ridge Grappler All-Terrain Radial Tire
There are a lot of attributes to mention about this amazing light truck tire that make it the best light truck tire from Nitto tires in my opinion.
With its deep and daring sidewall lugs and bold tread pattern, this American-made tire fearlessly grips the rough terrain, providing unyielding traction.
The shoulder grooves, masterfully crafted, clear away mud like a knife through butter, granting you unwavering traction in even the most treacherous of conditions.
Also, thanks to its alternating tapered edges, you'll have an extra edge in tackling any obstacle that dares to stand in your way.
But the Nitto Ridge Grappler All-Terrain Radial Tire isn't just about brute strength, it's also about savvy defense. Its clever stone ejectors protect against any damage from stones, so you can conquer the road ahead with confidence and peace of mind.
5. Mickey Thompson
The name Mickey Thompson is synonymous with American motorsports and tire innovation. As the founder of Thompson Tires, he was a visionary who pushed the limits of what was possible in the world of off-road racing.
So, what sets Mickey Thompson Tires apart from other brands in the market?
It all comes down to their unwavering commitment to quality and innovation. Each tire is designed and manufactured in the USA, ensuring that they meet the high standards of performance and durability that Mickey Thompson is known for.
Take a closer look at some of the most popular light truck tires made by Mickey Thompson right here in the USAhttps://mramericanmade.com/american-made-tires-vs-import-tires/:
The Mickey Thompson Deegan 38: For those who live and breathe off-roading, this tire is the ultimate choice. With its exceptional grip, stability, and durability, it's the perfect tire for tackling the most extreme conditions.
The Mickey Thompson Baja ATZP3: This all-terrain tire is a true workhorse, providing a smooth and comfortable ride both on and off-road. Whether you're navigating rocky trails or cruising down the highway, the Baja ATZP3 is the tire you want under your truck.
The Mickey Thompson Baja MTZP3: This mud terrain tire is designed to provide maximum traction in the muddiest conditions
The Mickey Thompson Baja Claw TTC: For those who demand the best in extreme off-roading, the Baja Claw TTC is the tire of choice. With its exceptional traction and durability, it's the perfect tire for tackling the toughest terrain.
So, whether you're looking for a tire that can handle the toughest conditions or just appreciate the legacy of an American racing legend, Mickey Thompson Tires is the name to trust.
MICKEY THOMPSON baja boss
The Mickey Thompson Baja Boss tire is here to provide you with an unparalleled off-road and on-road experience, which might make it the best American made light truck tire.
This tire is a true all-terrain champion, featuring an asymmetrical tread pattern that delivers outstanding traction in any conditions. You'll never have to worry about getting stuck in the mud or slipping on wet roads again.
Also, the heavy-duty rubber compund and reinforced with heavier denier cord substantially reduces the chances of getting a flat tire in the middle of nowhere.
And, as it comes with a 50,000-mile treadwear warranty, giving you peace of mind and the assurance that your tire is built to last. You'll be able to drive with confidence, knowing that this tire will be with you for the long haul.
And, besides being manufactured in America, this Baja Boss tire is even suitable for severe snow, making it the perfect companion for those who live in areas with harsh winter conditions.
6. Michelin
Michelin, a French tire company with a heart of Americana. A true love story that spans decades, this brand has captured the hearts of truck owners across the country with its exceptional quality and performance.
When it comes to the light truck tires that the brand manufactures here in the USA, we find the MICHELIN LTX A/T2 and the MICHELIN Defender LTX M/S All Season radial light truck tires:
The MICHELIN LTX A/T2, a tire of many talents, offers superior traction in wet and dry conditions, making it the ultimate sidekick for truck owners who live life in the fast lane
On the other hand, the MICHELIN Defender LTX M/S tire is the weatherman of tires. No matter the forecast, this tire will have you covered with reliable traction in rain, snow, or sleet. It's not just a tire of practicality, it offers comfort too, with Its innovative design ensures a smooth ride, making it the perfect partner for truck owners who clock in a lot of miles.
MICHELIN LTX A/T2 for Light Truck, SUV and CUV
The MICHELIN LTX A/T2 tire promises to take your driving experience to the next level by offering amazing attributes that make it the best light truck tire made right here in the USA.
With its Biting Edges technology, it delivers incomparable traction on unpaved surfaces. It also has a tread pattern that is designed to sink its teeth into loose terrain for maximum grip and stability.
This tire is not just a performer but also a smart investment, as it's molded with a rubber compound that can fend off cuts and chips, preserving its shape and performance for the long haul.
Last but not least, it comes with a Comfort Control Technology that reduces vibrations within the tire, providing you with a smoother, more enjoyable ride. No more jolting on rough roads or highway humps!
---
What Makes American Truck Tires Better
Here are the three main reasons I believe put American made light truck tires above their import counterparts.
Better Quality
Unfortunately, not all light truck tires are made in America.
Some are manufactured overseas where quality standards may be lower, and cost savings are prioritized over performance and safety which makes a tire that may be cheaper but not reliable.
However, you gotta think that your truck's tires are the only thing standing between you and the road, so it's crucial to have tires that are reliable, durable, and safe.
In this context, American-made light truck tires are known for their exceptional quality and performance as they are made to meet strict standards and undergo rigorous testing to ensure they provide the best possible ride.
Advanced Technology
Have you ever been driving down the road and felt every bump and jolt along the way?
If so, it may be time to upgrade your tires and I'd say to seriously consider American-made light truck tires.
Why?
Well… these tires are designed with advanced technology (e.g. high traction thread patterns, run-flat technology, etc) to provide exceptional traction and a smooth and comfortable ride, no matter the road conditions.
Not only will you enjoy a better driving experience, but American-made light truck tires are also made to withstand the toughest conditions, so you won't have to worry about making frequent replacements.
Patriotism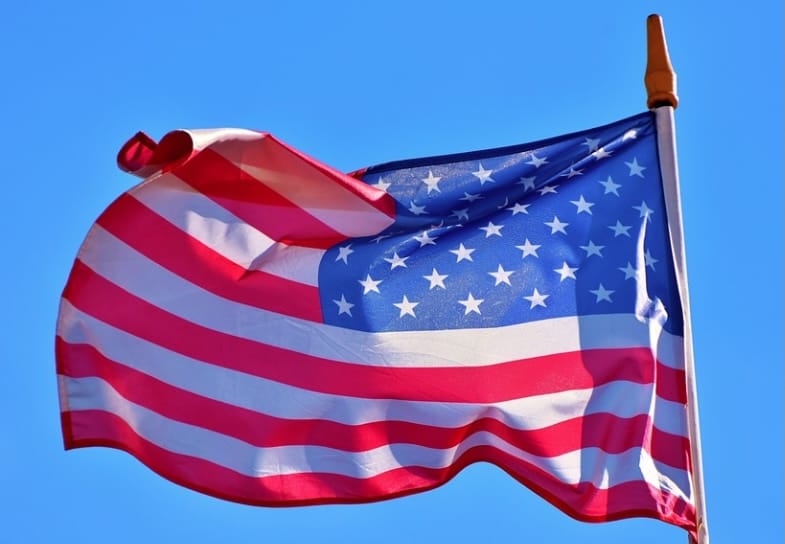 Are you looking for a way to support the American economy and show your love for the land of the free?
Replacing your truck tires with American-made ones might be a nice place to start.
I mean, when you choose these tires, you're not only investing in top-quality performance, but you're also supporting American workers and their families.
So, why settle for less when you can have the best of both worlds?
American-made light truck tires provide you with advanced technology, exceptional quality, and a patriotic touch.
It's a win-win scenario that you can feel good about every time you hit the road.
---
Frequently Asked Questions
Here are some of the most frequent questions regarding American-made truck tires and my attempt at answering most of them.
Are BFG KO2 made in USA?
Yes, the BFGoodrich KO2 light truck tire is made here in the USA, just as many BFGoodrich tires are.
Are Cooper truck tires made in the USA?
Cooper is a name that is synonymous with quality and reliability when it comes to truck tires, especially those that are manufactured here in the USA (in the states of Arizona, Mississippi, and Ohio).
In particular, Cooper manufactured the following tire models in the USA:
Cooper A/T3 XLT
Cooper Zeon LTZ
Cooper Discoverer H/T Plus
Cooper Discoverer SRX
Cooper Discoverer S/T Maxx
Cooper Discoverer STT Pro
Cooper Discoverer HT3