Hey there, bike enthusiast!
If you're reading this, you're probably on the hunt for some American-made bike tires.
And let's be real, it can be tough to find them amongst all the foreign-made options out there.
Well… the thing is this: many manufacturers choose to produce their tires overseas to save on labor costs and increase profits.
But, I still believe buying American-made bike tires is the way to go.
Why? Well, not only are they held to strict quality control standards, but you're also supporting the local economy and creating jobs in the USA when you purchase them.
So, I've done the legwork for you and compiled a list of American-made bike tire manufacturers.
Let's do this and support our country!
---
American Made Bike Tires: Full List
Here are three brands that have decided to invest in our country by opening manufacturing facilities to produce bike tires:
1. Michelin Bike Tires
You've probably heard of Michelin – the world-renowned tire manufacturer with over a century of experience.
Based in France, they're known for making top-notch products and using innovative technologies.
But did you know they've got a pretty big presence in the USA too?
Well, they've got multiple manufacturing facilities and offices in several states, which shows their commitment to the American market.
And when it comes to bike tires specifically, they've got you covered. They make them right here in the USA in their facilities in South Carolina, Indiana, Alabama, Nova Scotia, and Oklahoma.
They've got a wide range of options for different types of riding, from road to mountain biking, and they're known for their quality and performance
For road bikes, Michelin offers:
The "tlr competition" tire line, which is tubeless ready and designed for racing and high-performance riding
The "tubular racing" line which is a lightweight option for racing
The "competition" line which is for high-performance riders looking for a balance of speed and durability
For mountain bikes, Michelin offers:
The "force xc2" line, which is designed for cross-country riding and features a mix of low-profile knobs for speed and larger knobs for traction
The "wild xc" line is designed for loose and rocky terrain, with large and widely spaced knobs for stability
The "jet xc2", "wild xc performance" and "force xc2 performance" tire lines are designed for aggressive riders looking for speed and control in challenging conditions
2. WTB (Wilderness Trail Bikes)
Meet WTB (Wilderness Trail Bikes), a company that's been cranking out bike tires for over 40 years.
They're based in California, USA and have deep roots in the American cycling scene.
And let me tell you, they know how to make some quality tires…
Plus, when you buy a WTB tire, you're supporting American jobs and industry. This is important because it helps to create jobs, stimulate growth, and promote a stable and sustainable economic environment.
They also use some pretty cool technology like TCS (Tubeless Compatible System) which makes it easy to convert to tubeless setup, and comfortable bike saddle designs for a better riding experience.
They've got a range of tires for different types of riding and terrain like the Vigilante, Trail Boss, and Byway.
Each of these tires has its own unique benefits, such as the Vigilante's shoulder knobs that provide improved cornering grip, the Trail Boss's large and widely spaced knobs for stability, and the Byway's center knobs that are perfect for speed and stability.
And that's not all, they have everything you need to make your cycling experience better and more enjoyable, from tires to saddles, to gloves and even bags.
3. Specialized Tires
Specialized is a well-known American brand that produces a wide range of bike components and accessories, including tires.
The company has a long history of producing high-quality products and has a deep link to the American cycling scene.
Their tires are designed, tested and manufactured in their facilities in Morgan Hill, California, which showcases the company's commitment to providing American-made products.
Their most popular tire is their "Butcher Grid Trail 2Bliss Ready T9" which is marketed as a versatile tire that offers great grip and control in any condition, thanks to its aggressive tread design, siped center blocks, and sawtooth-faced shoulder knobs. It also features a high-dampening GRIPTON® T9 compound that delivers better handling and traction.
Specialized is also famous for their other products such as bicycles, helmets, shoes, and apparel. They are known for their innovation and commitment to quality, which is evident in their products.
---
What Makes American Made Bike Tires Better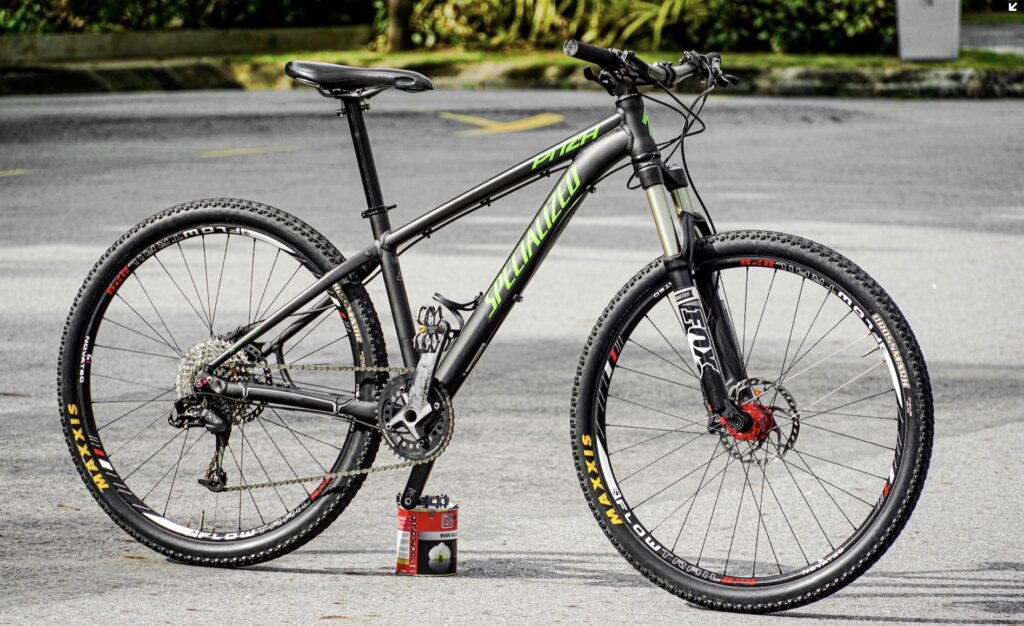 I strongly believe that American made bike tires are superior to their imports counterparts.
Why?
These are the main reasons:
Better Quality Control
You know what's great about American-made bike tires?
They go through some serious quality control.
American manufacturers have to follow strict regulations and guidelines, meaning the tires you're getting are top-notch in terms of performance and durability.
So, when you buy an American-made bike tire, you can trust that it's gonna be a good one.
Quality control is crucial in bike tires, because you don't want a tire that's gonna fail on you and potentially cause harm.
Imagine being on a long ride and your tire craps out because it's made with really bad materials. Not a good situation to be in, right?
But with a tire that's undergone strict quality control, you're looking at a safe and enjoyable ride.
Bottom line, choose a bike tire that's been through the quality control ringer.
Supporting American Economy
You know what's rad about buying American-made bike tires?
You're not just getting a really good tire, you're also helping to create jobs and boost our economy.
When you buy American-made products, you're supporting American workers and businesses, which helps keep our economy strong and our people employed.
I know some folks might not think about this, but I do.
By buying American, you're helping out your fellow citizens. It's a win-win situation, you get a great tire and you're supporting your country.
Environmental Standards
In the last decade, America has been known for being pretty environmentally conscious, and that's something that American bike tire manufacturers take seriously.
With all the regulations and guidelines set by the government to protect the environment and promote sustainable practices, and it's no surprise.
Environmental standards are important because they help reduce pollution, conserve resources, and protect public health.
And most American bike tire manufacturers have strict environmental standards in place, like using eco-friendly materials and production methods to reduce their carbon footprint, minimize waste and protect the environment.
Plus, they conduct regular audits to make sure they're sticking to these standards and make necessary adjustments if needed.
Innovation
When it comes to bike tires, innovation is critical because it allows manufacturers to create products that are safer, more efficient, and more durable.
One example is the advancement of tubeless technology, which provides a smoother and more efficient ride while also lowering the risk of flat tires.
The constant research and development efforts put in by American-made bike tire manufacturers to create better and more durable products demonstrate their constant search for new technologies to innovate.
This is not as common among overseas bike tire manufacturers, who frequently prioritize cost cutting over investing in new technologies.
So, if you want to spend your money on a bike made by a brand that is constantly pushing the boundaries of what is possible in order to create a product that is at the cutting edge of technology, you should choose a bike tire made in the United States.
---
Frequently Asked Questions
These are some of the most frequent questions that pop out when discussing American made bike tires. Let me give it a shot and answer all of them.
Where are continental bike tires made?
Continental tires are made in various locations around the world. When it comes to bike tires though, most continental bike tires are made in Germany.
Who owns American Classic?
American Classic was founded by the Thompson family, consisting of dad Leon and his sons Nathan and Jacob.
They established the company in 2001 and have been running it as a family team ever since.
The Thompsons are a close-knit group and have been successful in many ventures together.
They take pride in working together and making American Classic a success.
Are specialized bike tires made in USA?
While not all specialized bike tires are made domestically, the ones that are come straight from the manufacturing facilities in Morgan Hill, California.
So, if supporting American-made products is important to you, be sure to check for the "Made in the USA" label when shopping for your next set of specialized bike tires.